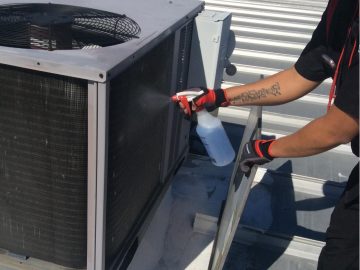 Service Overview
Running into an HVAC problem is more than just an inconvenience. It has the potential to disrupt and in some cases completely shut down the everyday operation of your business. A properly operating Commercial HVAC System is a key component to higher workplace productivity, as well as the comfort of your clients.
At Vortechs Heating and Air we believe in offering our customers a one-stop-shop for all their commercial air conditioning, heating and refrigeration needs. Our fully trained, background checked, insured and trusted technicians are dedicated to their craft. Commercial businesses choose Vortechs Heating and Air time and time again for our honest service and dependable results.
Don't just hire any company to work on your Orlando business. Choose a professional-grade company that truly cares about exceeding your expectations. No job is too hard for us. With over 20 years in the HVAC industry, Vortechs Heating and Air is the company for you.
COMMERCIAL SYSTEMS AND JOBS
Heat pump unit and systems
AC units and systems
Mini split heat pumps and AC systems
Humidity controlled rooms
Walk in coolers
Walk in freeze systems
Reach in coolers
Reach in freezer units
Ice machines
Dehumidifiers and humidity control systems
Popular Questions
We do provide commercial maintenance options to fit your budget. Contact our staff and they can walk you through the options.
No we are not an AC retail or wholesale parts supplier. Vortechs Heating and Air is a heating, ventilation and air conditioning contractor. We are not registered in the state of Florida as a retail parts company. Our company supplies all parts, material and labor to complete our services.
Vortechs Heating and Air is a Class A contractor and has an unlimited ton capacity license. Vortechs Heating and Air can and does install all configurations of commercial heating and air conditioning systems.
We will gladly give you an estimate to repair your AC system. We will schedule an appointment with you for one of our high skilled HVAC technicians to visit your location and perform diagnostics of your issue. At that time we will provide you with options to repair your air conditioning system. Vortechs Heating and Air does not provide estimates on other contractors diagnostics. We stand behind our quality of workmanship and are dedication to provide an amazing customer experience.