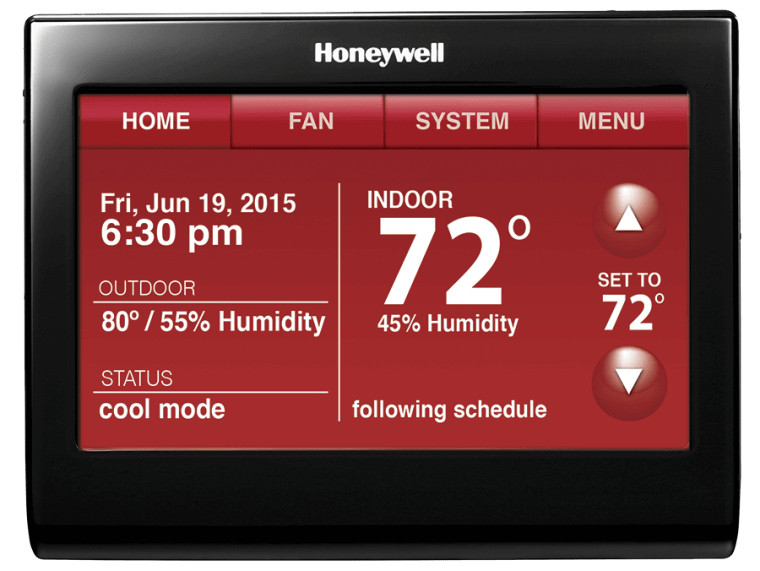 Service Overview
We provide our clients with the best in the industry thermostat and temperature control repair and installation services. Our staff is continually training and improving on comfort control products for heating and cooling equipment. It's extremely important that we stay on top of the ever growing world of heating and cooling controls technologies. Temperature controls and thermostats have improved greatly in efficiency and overall equipment operations. The advent of whole home control products has made a revolutionary jump in the past decade or so. Our team is on the forefront of this gigantic shift in the evolution of these products.
We provide high end and exceptional quality air conditioning and heating thermal control products and equipment. Your comfort needs will be taken care of when you choose Vortechs Heating and Air. All of our thermostat and temperature control repairs and installation pricing is upfront with no hidden fees. The repair and installation solutions for your heating and cooling controls services are clearly explained at the time of our visit to your home.
Our service technicians will answer all your questions pertaining to your heating and air conditioning thermostat repair projects. Vortechs Heating and Air guarantees the quality of workmanship and also provide extended warranty options too.
We always stand for doing our job at the highest level of quality! We also understand people value their time, money and comfort so our staff is here to provide a smooth repair service for you and your loved ones.
All you need to do is contact our customer service department via phone or schedule an appointment for service here on our website. We will consult you and provide you with options that will suite your schedule and availability. One of our experts will visit your home and perform an evaluation of the heating and cooling control systems at the most convenient time for you.
Our highly trained service techs will also work to make sure your repairs are performed to your %100 satisfaction! We work to fulfill our goal and provide our clients with the most complete and thorough of HVAC control installation and repair services. We aim to please and our team of experts wish to share that level of workmanship with you.
Vortechs Heating and Air THERMOSTAT AND CONTROL SERVICES
| | |
| --- | --- |
| Digital Thermostat Controls | Our team of highly trained service technicians specialize in digital thermostat controls. The advent of digital thermal controls has revolutionized the HVAC industry providing more efficient operation of heating and cooling equipment. |
| Programmable Thermostat Controls | Programmable thermal control systems have taken operating your heating and cooling equipment to a new level. With these types of thermostats we are able to set daily and weekly schedules to operate your comfort systems automatically. These are great for folks with a daily routine. This is the base level thermostat we use for our new heating and AC installation services. |
| Wifi Thermostat Controls | The Wifi or the SMART thermostat control systems are the wave of the future. Many of these controls are set to align with many whole home control systems. We sell, install, and make repairs to these control systems. These thermostats are able to operated from anywhere in the world as long as you have internet connection. |
Popular Questions
We do install 3rd party thermostats you have purchased from another vendor. This is the only product that we allow our team to install that was not purchased through us. There is a fee for this service.
We do not sell parts and materials to the public as we are not a retail outlet. Our state license allows us to perform heating, ventilation, and air conditioning services.
We do perform this service and have done it many times. There are on occasion architectural limitations with conventional thermostat controls but we do have solutions to resolve that.
For efficient operation of your heating and cooling system, 78 degrees is the recommended desired set point. Many people are more comfortable with lower or warmer temperatures. We recommend not setting your thermostat below 70 degrees for safe operation of your AC system.